How to De-Clutter Your Business and Make More Money
I'm Sharon Michaels and I've been an entrepreneur and a mentor to women in business for over twenty-five years. I know for a fact that if your business is cluttered and disorganized you will not make the amount of money you desire. I also know that if you want to make more money and have more fun doing business, you need to de-clutter your office, your mind and your life.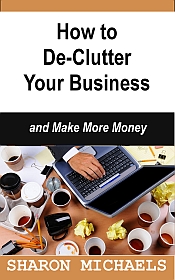 In my downloadable eBook How to De-Clutter Your Business and Make More Money I take you through real-world strategies, checklists and hands-on activities that will have you de-cluttering your business so you can make M-O-N-E-Y. De-cluttering isn't just about straightening your office. De-cluttering is about deciding what is important to growing your moneymaking business and what's not.
This Kindle eBook is an easy read that's filled with practical tools for organizing your business and your mind. When you're organized, you can consistently work your business in positive productive moneymaking ways.
Here's an excerpt from How to De-Clutter Your Business and Make More Money: "When I think of being organized I think of two things: Time management and taking your business seriously. It is well worth an hour or a day or even a week to organize your workspace, your file cabinet, your bookshelves and your computer so you have a workable system for finding what you need when you need it. Being organized provides great peace of mind. Peace of mind allows creativity to flow and creativity produces bigger and better moneymaking ideas."
You'll want to get your copy of How to De-Clutter Your Business and Make More Money so you can begin using the checklists and activities immediately.
I also suggest checking out my Amazon.com Author's Page where you'll find links to my other Kindle and paperback titles.
21 Days to Living Your Dreams – A step-by-step hands-on approach to achieving your goals and living the life of your dreams. Available as a Kindle and paperback.
How To Plan and Host a Virtual Launch Party on Facebook
Asking the Right Questions for Sponsoring Success – For network marketers
How To Create The Mindset of Prosperity and Wealth
From So-So To So Successful
How To Keep Yourself and Your Business On Track
I'm inviting you to sign up for my newsletter Unlimited Success For Women. Twice a month I'll email you success strategies and how-tos for growing yourself and your business. This is an ideal way for you to stay up-to-date with all the latest business-building skills and professional development tools. My thank you for subscribing is the downloadable audio of my favorite chicken and eagle story – a must listen!