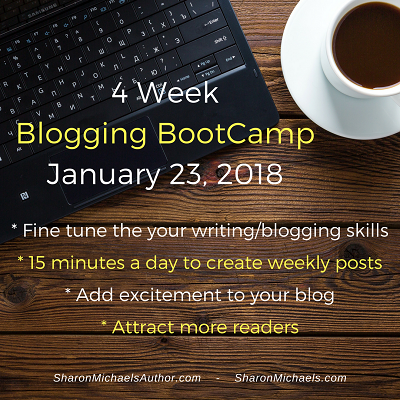 WELCOME
Thank you for joining our 4 Week Blogging BootCamp
January 23 – February 20, 2018

You will be receiving in your email inbox the link to our private Facebook on Monday January 22th. Be sure I have your correct email address – I'll be using the one on the PayPal receipt.
Also, make sure you "friend" me on Facebook so I can add you to our private BootCamp Facebook Group. Here is a link to my Facebook page if we aren't yet Facebook friends: https://www.facebook.com/WomenEnjoyingSuccess

I will be emailing you occasionally BUT most of our communication and interaction will be on our Facebook BootCamp Group page. You'll find our weekly writing/blogging theme, audios, videos, worksheets, words of encouragement and other relevant information to support your BootCamp successes on the Group page.

The goal of our BootCamp is you get you blogging easily and regularly. Writing a good blog post should be rewarding and fun and not a chore. I want you to be a happy blogger by the end of our four weeks together.

***Please take a few minutes to answer these questions and email them back to me (mail@sharonmichaels.com) before Tuesday January 22nd***
1. Do you currently have an active blog?
a. If yes, how often do you post and on what subjects?
2. What are your expectations for this BootCamp?
3. How many hours per week do you have to work this BootCamp?


We'll be getting the BootCamp started shortly, in the mean time you may want to check out my http://WomenWhoWantToSuccessfullyWorkForThemselves.com blog.

Thank you again for being part of this empowered community of success-oriented women who are determined to grow their business. I am honored to be working along-side of you.
If you have any questions, please email me at: mail@sharonmichaels.com
Here's to all your successes,
Sharon Michaels