One Week Online Business-Building Blitz Workshop with Sharon Michaels
Getting Referrals without Being Pushy – June 20 – 26, 2016
=> Are you ready to focus your business-building efforts on learning and perfecting one powerful marketing tool for an entire week?
=> Are you ready to hold yourself accountable for taking action and producing results during this one week workshop?
=> Are you ready to grow your business while learning how to ask for referrals with self-confidence and professionalism?
Hello and thank you for your interest in learning more about tapping into a powerful marketing tool many women seem reluctant to use. I'm talking about asking for and securing referrals to grow your business.
Referral marketing means that future customers/clients are recommended to you by someone with whom you already have a relationship.
The person making the referral is opening the door of success for you. Doesn't that sound like a wise way to do business?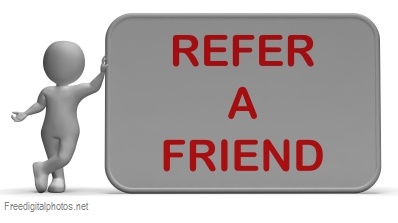 Here's what I have planned for our online one week (June 20-26, 2016) business-building blitz workshop:
In your email inbox you'll be receiving daily how-to activities to take you step-by-step forward in learning and perfecting your referral marketing expertise.
You'll develop personalized scripts and templates to help you develop greater confidence when asking for and securing referrals.
You'll learn how to develop a workable follow-up system.
You'll learn when and how to ask for referrals without feeling pushy or self-conscious.
You'll develop a customized strategy for staying in touch with the people who gave you the referrals.
You'll want to use our private Facebook Group Page regularly to network with other workshop members, share "aha's" and brainstorm ideas.
We will have a "live" Group Coaching and Networking call on Saturday June 25, 2016. This will be your time for ask questions, share ideas and network with one another. If you cannot make the "live" call, it will be recorded.
I am thoroughly enjoying "Making Success a Habit MasterMind" with Sharon Michaels. She really knows how to make you dig deep and find all of those road blocks that are holding you back form enjoying success! The way she explains the "Self Sabotage" is spot on and she has amazing methods on how to STOP the sabotage! Her visualization audio content is priceless! I have learned so much about myself over the last few weeks in the MasterMind, and I am finally doing something about it thanks to Sharon. She truly is EMPOWERING! She is easy to work with, easy to relate to and sincerely wants to help! She knows her stuff that's for sure! I am looking forward to working with Sharon one-on-one in the future!
Making Success a Habit Mastermind has helped me see where I have been sabotaging my own success. Now I am making better business decisions because I know what to look for. Having the support and connection with the other women in the group has been invaluable as well. I can see that I'm not the only one who needs help in this area. Sharon makes the learning fun and interesting. I would highly recommend this and other courses that Sharon provides. I always get a lot out of her programs.
I'm reminded of a quote I saw recently: "The sun's energy warms the world. But when you focus it through a magnifying glass it can start a fire. Focus is so powerful!"
I've learned from my own twenty-five plus years of experience as a business owner that when I focus my time and energy on one business-building activity for seven straight days, I generally get solid business-building results. That's what we'll be doing June 20-26, 2016 – focusing on getting you referrals to grow your customer/client base and grow your business.
This is a work-at-your-own pace workshop – you determine your level of commitment – no one is judging you! The more you participate in these activities, the more you'll take away from our week together.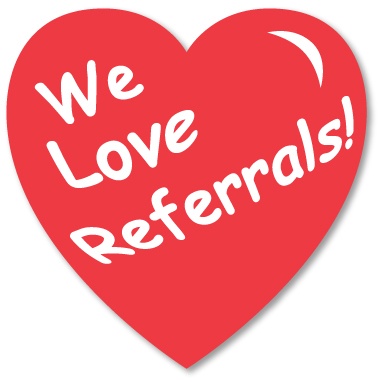 Can you see how our one week online Business-Building Blitz Workshop June 20-26, 2016 could…
Help you better use your marketing time, energy and knowledge more wisely?
Keep you from feeling overwhelmed with the thought of constantly finding new customers/clients?
Give you the tools and self-confidence to ask for referrals?
Take a minute right now to register for my brand new One Week Building-Building Blitz – Getting Referrals without Being Pushy Workshop. 
I'm looking forward to working with you!
Here's what to do next: Registration is now closed!!!
Do yourself and your business a favor and become part of a group of women who want to empower themselves and each other to greater personal, professional and financial success. Join a success-oriented Workshop of women who are Getting Referrals without Being Pushy and giving themselves the POWER to succeed.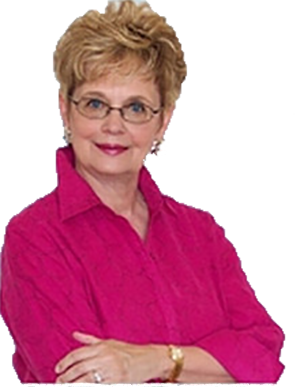 Empowering Women To Greater Personal
and Professional Success
I'm like many of you, I find it difficult to write an "About Me" page. After all, I was taught not to brag on myself and to take my accomplishments in stride. I remember in my younger days when someone would compliment or congratulate me I'd shrug it off with something like, "It's no big deal - if I can do it anyone can do it."
I guess I'll begin at the beginning of my own personal and professional development journey because it all revolved around learning how to grow my healthy self-esteem. I believe healthy self-esteem is our greatest success tool. With healthy self-esteem comes self-confidence, a willingness to come out of our comfort zone and the ability to give ourselves permission to go for our dreams.
I've spent the last 25+ years not only working on nurturing my own self-esteem, but sharing my journey with the thousands of other women who work so hard to succeed and yet, seem to yank the rug of success out from under themselves. During the past years, one golden opportunity led to another and I found myself growing a home-based business – which, I quickly realized was very different from having a 9-5 job.
I started documenting my entrepreneurial journey – the challenges, the distractions and the day-to-day positive habits that produced moneymaking activities. I looked at my business-building journey from both the personal and professional aspects because I found it impossible to separate the two.
I have a background in teaching and in fact, I believe it is my gift. I have the ability to ask great questions so I can break down challenges into bite-sized solutions. I always wanted to be a teacher even as a little girl – I'd line up my dolls and teach them how to write the alphabet. As an only child, I could amuse myself for hours teaching my dolls. Now as an adult, I can amuse myself for hours creating books, articles, webinars, blogs and classes for women in business. There are times when I feel like life has come full circle.
I learned working for school districts that I didn't make a good employee – I seem to be more of an independent thinker. Growing up, I was taught to go for a safe and secure job – a job that would give me a pension and life-long security. I believe those days of finding a safe and secure job are over – we women are in charge of making our own security. I also believe that working successfully for yourself is a great way to provide security for not only yourself but your family as well.
I love the teaching and mentoring – I love seeing women take what they are learning and turning it into successful moneymaking businesses. I work with women who work from home, women in network marketing and women who own storefront businesses. I work with women thinking about starting a business, have just started a business and women who have been in business for awhile but are feeling stuck and maybe even disenchanted.
I'm not going to kid you, I've made many mistakes learning the entrepreneurial ropes. I'm here to share what I've learned so you don't have to waste your time, energy and money making the same mistakes. My professional mission and goal is to help pave your road to success with time saving and business-building success strategies.
Sharon Michaels
Contact Sharon
If you have any questions, I would love to hear from you