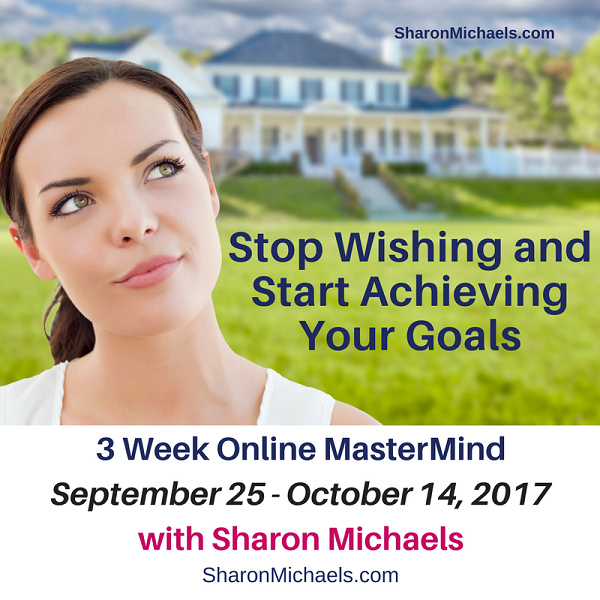 WELCOME and thank you for joining our
Stop Wishing and
Start Achieving Your Goals
 3 Week Online MasterMind
September 25 – October 14, 2017!
I'm excited to share the fun, supportive, business-building, goal achieving and confidence boosting MasterMind I've created. This MasterMind is designed to show you how you can set and achieve an "awesome" goal in three weeks.
Within the next 24 hours I will be emailing you my "Why Aren't I More Focused" survey. Please complete the survey email your answers back to me before Monday September 25th. All the instructions will be in the survey email. Please make sure I have your correct email address.
Shortly I will also be adding you to our private Facebook Group. Be sure to "friend" me on Facebook – otherwise I will not be able to add you to our Group. Here is a link to my Facebook page if we aren't yet Facebook friends: https://www.facebook.com/WomenEnjoyingSuccess
I will be letting you know soon the dates and times of our Group Calls – these calls are for MasterMind members only. They will be recorded. There will be one call the first of our MasterMind and one call the last week. I'll try my best to accommodate work schedules, etc.
Thank you for being part of this select group of success-oriented women who are determined to grow their business to the next success levels. I am honored to be working along-side of you and I'm looking forward to our three weeks together.
If you have any questions, please email me at: mail@sharonmichaels.com
Here's to all your successes,